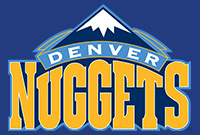 The NBA is always brimming with headlines and fresh off the wire on November 1st is the announcement that
Ray Allen will be retiring
from professional basketball. Allen is a 10-time All-star, 2-time NBA champion, and the all-time leader in 3-pointers taken and made. With over 24,500 points in his career Allen will go down in basketball betting history as one of the NBA's greatest marksmen. But with his announcement the NBA must prepare to bid farewell one of the most entertaining athletes it has birthed in the last decade or so, and fans must prepare for Ray Allen-less basketball.
While it's not clear who will have a harder time moving on from Ray Allen, the NBA or the fans, what is clear is that the Denver Nuggets could desperately use a player like Allen. Coming into the 2016 season, the Nuggets didn't have the highest hopes for the season. Mostly because of how lackluster the team finished in 2015; a 33-49 record that placed them 4th in the Northwest Division and 11th in the Western Conference. The Nuggets disappointing season marked the third straight year in which Denver failed to qualify for the postseason. Since 2012 the Nuggets have gone through 4 head coaches. Currently Michael Malone is the man running the team, but if he's unable to get a turnaround from his players, the basketball betting community might just have to welcome a new Denver head coach.
Malone's first season didn't pan out exactly like the young coach would've hoped. Sure the team won three more games, but three games isn't a considerable difference. But even so, Malone was confident that after a solid offseason he would be able to raise this city to its former 'Mile High' status. Most of the Nuggets offseason acquisitions revolved around using up their whopping 5 NBA draft picks. Most notable amongst the players selected by Denver is Jamal Murray, a Canadian guard out of the University of Kentucky. Murray is an extremely talented, young athlete that joins 11 other NBA players as representatives of the US's northern neighbor. Other notable draft picks the Nuggets elected are number 15 overall Juan Hernangomez, a Spanish forward, and number 19 overall Malik Beasley, a guard out of Florida State.
This past offseason, the Nuggets also had to endure a few losses. DJ Augustin, guard, has decided to part ways with the team and signed a 4-year $29 million contract with the Orlando Magic. However, the organization was confident enough that their solid draft class would be enough to account for the loss of Augustin.
From what we've seen from the Nuggets this season, they could've hung onto Augustin for a little longer. Denver is 1-2, with back to back losses against the Trail Blazers and the Toronto Raptors. This Thursday they'll face off against the Minnesota Timberwolves and try to prove to basketball betting fans that they should consider this 'rebuilding' team for a bet on
NBA money lines
.