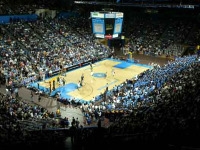 On Wednesday, Feb 29th, the LA Lakes (5th in the Western Conference) are fighting it out with the Minnesota Timberwolves (Ranked 10th). The game is at the Staples Center, where the lakers are 14-2, with a 20-14 record overall.
On their previous meeting, the Lakers beat Minnesota (at Minnesota) 106-101, where Kobe Bryant had 35 points. Bryant broke his nose during the all star game last weekend, and there is questions about how much playing time he will see against Minnesota, but Laker fans don't seem to be worried, based on the number of bets coming through the sportsbook.
Minnesota will be playing there second night at the Staples Center, because they took on the Clippers on Tuesday night. The Timberwolves have not had quite the success of the Lakers, with a 17-17 record overall and 7-7 on the road.
Even thought the Lakers seem to have a statistical advantage, Kobe's injury is helping Minnesota with the odds tonight, where the Lakers have a -4.5 advantage with a -105 payout for the game. The payout for the +4.5 odds on the Timberwolves is also -105. This will be a close game between both of these teams. Check the Basketball Odds for the Timberwolves vs. Lakers game.
Kevin Love is the star player for the Timberwolves with 25 points per game and 14 rebounds, while Ricky Rubio is also starting to build up some momentum with the Timberwolves too, with 11.3 points per game, 8.4 assists, and 2.4 steals in each game (second in the NBA for steals).
Open an account for the best Sportsbook Parlay and Vegas Teaser Payouts in the Industry.