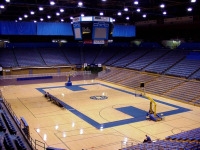 Jeremy Lin and the New York Knicks head south to meet up with Dirk Nowitzki and the Dallas Mavericks at The American Airlines Center tonight. The game will be featured on NBA TV's fan night beginning at 8:30ET.
In their last matchup on February 19, the Mavs lost to the Knicks 104-97 at Madison Square Garden. It was in that game, that the aforementioned Lin had one of his best performances to date. He scored 28 points, had 14 assists, a career high and added 5 steals in this stellar effort. Coming into this contest however, Lin is coming off two disappointing road outings which included being " schooled " by Lebron James in Miami and then losing the last game to the Celtics on Sunday. In these two games, he made only 7 baskets out of 27 attempts and was responsible for 14 turnovers, while contributing only 8 assists in total. Although in fairness to him, he did put in 19 points along with 13 assists, and just a single turnover in a home game against the lowly Cavs on Feb. 29th. Check the Basketball Odds for New York Knicks at Dallas Mavericks game.
The Knicks come into this one with a record of 18 wins and 19 losses having dropped 17 of the last 20 games versus the Mavericks.Look to Tyson Chandler to have a big game against his former team, especially if Mavs starting center Brandon Heywood is unable to play as is expected.Chandler will be presented with his 2011 Dallas championship ring prior to the game.
As for the Mavericks, they have 6 losses in their last 8 games starting with that loss to these same Knicks just two weeks ago. Prior to that, they had reeled off six consecutive victories. They played well against a tough Thunder team in Oklahoma City Monday night, eventually falling to them 95-91. Nowitzki was their top scorer with 27 points. Start your Basketball Betting action on New York Knicks at Dallas Mavericks game.
Dallas is currently tied with Denver for the sixth seed and barely ahead of eighth place Houston in the Western conference with a record of 22 and 17. They are 14 and 7 at home.Dallas is a two and a half point favorite if you're willing to lay $110 to win $100. The same $110 will be required if you bet the over/under currently at 191.5.
Open an account for the best Sportsbook Parlay and Vegas Teaser Payouts in the Industry.