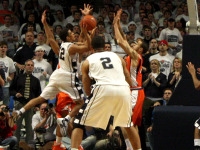 Are the Los Angeles Lakers a playoff contending team this year? After beating down the Denver Nuggets in two games at the Staples Center, it certainly seems that way, but this was a series that the Lakers were always supposed to win, so are they just taking care of business in the first round?
Denver sure hopes that the Lakers simply did what needed to be done in Los Angeles and that they can turn this series around. The keys for the Nuggets will be speeding up the pace of the game and pulling down a few more rebounds. But running up against those hopes are Los Angeles' two seven-footers, Andrew Bynum and Pau Gasol. Check the Online Sportsbook Odds for Los Angeles Lakers vs. Denver Nuggets game.
Game 1 was a total blowout, as the Lakers held the Nuggets to a mere 88 points while scoring 103 of their own. Game 2 seemed to be going the same way, with the Lakers up by 19 points in the third quarter. The Nuggets stormed back in that one, however, but came up short at the end, losing 104-100. If they can use some of that run to propel them into the start of Game 3 in Denver, they may be able to steal a basketball game here.
For the Lakers, both Bynum and superstar Kobe Bryant are having a brilliant series. In Game 2, Kobe scored 38 points, shooting a decent 15-for-29. Taking off eight of the final ten games of the regular season must have given the aging star all the rest he needed for one more playoff run.
The basketball odds is giving the Nuggets a slight edge tonight, listing them as -3 point favorites. This series should not be as lopsided as it has been thus far, and the oddsmakers seem to respect the fact that the Nuggets can play decent ball if they are able to get out and run in front of their home crowd. The over/under is set at 204, which is exactly the combined total of Game 2.
Open an account for the best Sportsbook Parlay and Vegas Teaser Payouts in the Industry.