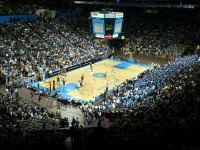 While at least for the moment, Dwight Howard remains an Orlando Magic, his primary suitor, the Brooklyn Nets, are not standing idly by awaiting his arrival. They have resigned free agent point guard Deron Williams to a $98 million deal and went out and obtained another highly touted guard, Joe Johnson from the Atlanta Hawks. They gave up 5 players and a lottery protected draft pick to secure his services. Johnson is 31 years of age and brings a hefty $90 million contract of his own to the Nets. He averaged just under 19 points per game in Atlanta last year.
There has also been speculation that Mavs free agent Jason Kidd would like to play with Williams in Brooklyn, too. But so far it seems Kidd will remain a Maverick for another year. In a related, but much less heralded deal, Atlanta also traded a former first round pick, Marvin Williams, to Utah for guard Devin Harris. Check the Online Sportsbook Odds for the NBA Trades game.
The Jazz also picked up Mo Williams in a multi-player swap that also found Lamar Odom back in Hollywood, albeit with the Clippers, not Lakers. At least wife, Chloe Kardashian Odom will be happy to have hubby home.
Speaking of the Lakers, they made a huge splash in the free agent arena by signing former Sun's standout Steve Nash to a sign and trade agreement worth $27 million over three years. Nash scored 12.7 points a game on average with 10.7 assists last year. He shot 53 percent from the field. The thought of him playing along side Kobe Bryant is quite intriguing to say the least.
The Suns kept the ball rolling (or dribbling) by reacquiring guard Goran Dragic who was Nash's backup prior to leaving for Houston, paying him a reported $30 million for 4 years. They also signed forward Michael Beasley, who was the second choice behind Derrick Rose in the 2008 draft for three years and $18 million. It is also being reported Phoenix may sign restricted free agent Eric Gordon to a maximum deal worth $58 million, with the New Orleans Hornets being able to match it.
Previously it was announced another restricted player, backup center Omer Asik of the Chicago Bulls signed a three year offer sheet worth $25 million with the Houston Rockets. Not bad for a guy who averaged 3 points and 5 rebounds per game last year.
Open an Account for the best Sportsbook Parlay and Vegas Teaser Payouts in the Industry.