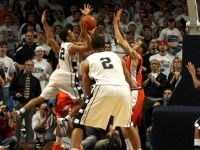 Downtown Salt Lake City is going crazy tonight, where the Jazz is playing the Houston Rockets in a Western Conference match at Energy Solutions Arena. Salt Lake City is the underdog for tonight's match, but only by two and a half points. But Jazz fans are predicting an outright win and they are expecting a very high scoring game, which should help with the o/u of 199.5 tonight.
The Rockets are 5th in the conference and 3rd in the Southwest Division, with a 20-14 record. Salt Lake City is way behind in last place for their division, but they are catching up fast and are only two games away from a play off spot. This would be a very big win tonight and would help their 15-17 record. Start your Basketball wagering action on the Rockets vs. Jazz game.
The Rockets have won 4 of their last 5 games and average 97.5 points per game (8th in the NBA). Martin has averaged 18 points per game and will be leading the Rockets, along with Lowry who averages 2 steals per game. Check the Basketball Odds for the Rockets vs. Jazz game.
Utah has had a tough few weeks, only winning 1 of their last 6 games, so tonight needs to be a comeback if they want to finish with a strong season. The Jazz is 11th in NBA basketball, with 96.2 points per game, but in most of their last 10 games, they have given up over 100 points per game. Jefferson and Milsap lead the team in scoring, with 19.1 and 16.1 respectively.
Open an account for the best Sportsbook Parlay and Vegas Teaser Payouts in the Industry.