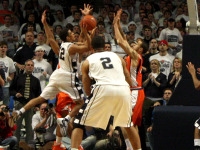 The Orlando Magic and Memphis Grizzlies will be reaching the playoffs but the positions that they will be in could be influenced by tonight's game at Memphis' FedEx Forum. The 40-25 Grizzlies will get home court advantage in the first round against the Los Angeles Clippers if they win tonight. The 37-28 Magic will be facing the third place Indiana Pacers in the first round of the playoffs. Both teams will be trying to end the regular season with momentum heading into the playoffs.
Tonight's game is the only Magic-Grizzlies matchup of the regular season this year. Memphis has won three straight home games against the Magic. This includes the last game these teams had, a 100-97 Grizzlies win on January 31, 2011. Start your NBA Betting action on Orlando Magic vs. Memphis Grizzlies game.
The Memphis Grizzlies have five straight wins and are 8-2 in the last ten games that they have played. However, the Grizzlies have played a number of easier teams in recent days including Cleveland and Charlotte. Rudy Gay has been prominent throughout these games, having 19.8 points per game in the team's current winning streak.
The Orlando Magic is dealing with several injury issues. Glen Davis sprained his ankle yesterday and is doubtful for tonight's game. This goes along with Dwight Howard's back injury and Hedo Turkoglu's face injury. Quentin Richardson's calf injury is not as serious as it was expected to be and is expected to be a prominent figure for the game.
J.J. Redick has particularly been involved with the team recently. Yesterday he had 31 points, a career high, against Charlotte and went 6-10 from the three point line. He also made all seven of his free throws, thus giving him a 91% free throw percentage for the season. Check the Sportsbook Odds for Orlando Magic vs. Memphis Grizzlies game.
There are no betting numbers available on tonight's game at the time of this writing. The game should be relatively close thanks to not only their close records. However, Memphis has a greater incentive for winning tonight's game because it could impact whether or not they will get home court advantage against the Clippers.
Open an account for the best Sportsbook Parlay and Vegas Teaser Payouts in the Industry.