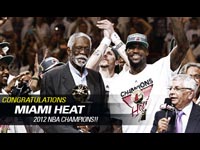 Let the celebration begin! LeBron James nine year quest for a NBA Championship ended last night and it only took five contests in this best of seven Finals to make it happen.
Not only did King James finally receive his crown, he did so in convincing fashion, logging a triple double in the Miami Heats 121-106 victory over the Oklahoma City Thunder in game 5.
When the basketball betting series began it looked as though it wouldn't just be competitive, but that the Thunder had a chance to stall James pursuit of the title another year. After all, they had won game one rather convincingly back on June 12 and it looked like Kevin Durant and Russell Westbrook could more than hold their own against James, Dwyane Wade and company.
But it turned out that first game was just a brief interruption as the Heat came back to win four in a row, the last three in front of their South Beach fandom, culminating in this game 5 triumph. James had the aforementioned triple double consisting of 26 points, 13 assists and 11 boards. Dwyane Wade had 20 points and grabbed 8 rebounds. Even Mike Miller made his presence felt, exceeding Wade with his own point total of 23, including 7 three pointers. Chris Bosh also had a solid effort scoring 24 points with 7 rebounds.
Miami led this contest for the final 40 minutes and 17 seconds. They were up by 10 at the half(59-49), then never really let OKC back in the game, out scoring them by 14 points in quarter number three and at one point they were up by 26.
Kevin Durant was the Thunders leading scorer logging 32 points, but he did not receive the support he needed from Russell Westbrook, who could only muster 19 in this one. It appears Westbrook should have saved some of the 43 points he scored in game 4, albeit in a losing effort as well.
Miami tied a NBA Finals record by going 14 for 26 from beyond the arc, half of which were provided by Miller, who came up one short of tying the individual mark for three's set by the Celtics Ray Allen in 2010. LeBron James was the first online betting player to post a triple double in the last game of a Finals series since Tim Duncan of the Spurs did it in 2003. So to the victors go the spoils and for King James, the series MVP too!