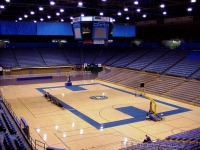 The Cavaliers last night proved that they mean serious business for NBA Betting fans. The Cavs, lead by a fantastic LeBron James, defeated the Golden State Warriors 110-99. What makes this victory so especial is two significant facts.
First, the fact that the Cavaliers beat the best team in the NBA, and beat them convincingly. Secondly, is the fact that LeBron James scored a season-high 42 points, looking as phenomenal as ever. Last night was a clear indicator of what you can expect from the Cavaliers for the remainder of the season. And, perhaps it was clear evidence on why LeBron James should be considered in the MVP discussion this season.
On the other hand, the Warriors had on the court the roster that has earned this team a large amount of the wins they have this season. Both Splash bothers were on board but they were not able to fend off the offensive assault that LeBron and company was delivering.
Plus, both Thompson and Curry were held off to 13 and 18 points respectively, total of 31 points combined (LeBron had 42, by himself). The statement has been made and the Cavaliers hope that they will now be taken more seriously in NBA Betting discussion on their chances of making the Finals and contending for the Tittle.
Coming off the unfortunate news of the injuries of Derrick Rose and Chris Bosh, the Cavaliers are now almost free to contend the Hawks for the top spot of the Eastern Conference. The only obstacle that the Cavs might have will be the Toronto Raptors, but if you consider the way that both teams are playing, and the roster on both teams, there is really not much comparison there
NBA Betting fans at the beginning of the season wanted to see LeBron and the Cavs become the top team in the league, and last night they were treated to a first taste of what that would be like.