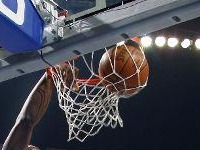 Us NBA Basketball Betting fans need to realize one thing, we need to appreciate Kevin Durant more. Alongside LeBron James, he is perhaps a player that will be destined for legendary status one day. Make no mistake that he will be on the Hall of Fame one day.
Championship ring or not, he is one of the premier players of this generation and we just have to accept the fact that when he plays is a spectacle. Just last night he dropped 40 points against the Nuggets. That performance alone could be considered a "career performance" if it was done by any other player, but for him this was a simply "good" game. He is capable of that and so much more.
Kevin Durant carried the Thunder to an crucial away victory against the Denver Nuggets 124-114, he was on fire shooting 13 out of 19, and going for 7 of 12 from the 3 point line (including a four point play). According to stats provided during the game this was KD's 43rd career game with 40 point or more. This is the kind of performance from him that his team needs if they want to get to the Playoffs. Considering the Thunder's record and current position, NBA Basketball betting is not having them as favorites to make it to the post season.
The Thunder started the year with injuries by Durant and Russell Westbrook, and they cost them dearly. Right now as the season approaches the All-Star break, the Thunder are technically out of the post season. And for them to reach at the very least the 8th seed in the West it will demand for them to put in a dominant second half of the season. There is no question that it will be an complete difficult task to achieve it, but NBA Basketball betting fans should know that if someone can pull this off is Durant and Russell Westbrook.