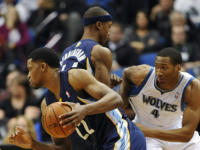 The 34-22 Los Angeles Clippers are very close to reaching the playoffs for the first time since 2006. However, they have a good shot at catching the Los Angeles Lakers for a divisional title. However, the 32-23 Memphis Grizzlies are trying to reach up to the Clippers and take over the fourth spot in the Western Conference, thus clinching home court advantage during the first round if they can do so. These two teams will be playing tonight at Memphis' FedEx Forum.
The Clippers have beaten the Grizzlies twice this year. The most recent game was on March 24 when the Clippers won 101-85. The Clippers have a potential to sweep the Grizzlies for the season for the first time in five seasons, thus making this a game with a little extra pressure on both teams. Start your Basketball Betting action on Los Angeles Clippers vs. Memphis Grizzlies game.
The Clippers will more than likely be without Mo Williams for the tenth game in a row. Williams, who has a toe injury, was getting 13.6 points per game prior to his injury. Williams had been the team's top bench performer.
Blake Griffin has continued to be proficient for the Clippers. He had 27 points and 14 rebounds in a 109-94 win over Sacramento on Saturday. This was in spite of going 3-9 at the free throw line.
The Memphis Grizzlies have the momentum heading into the game as they have a 4-1 record so far in April. This includes wins over Dallas, Miami and Oklahoma City.
O.J. Mayo is rocketing his way to a top bench player for the Grizzlies this year. He has 12.5 points per game this year, a total that makes him fourth on the team. Rudy Gay still leads with 18.4. Check the Sportsbook Odds for Los Angeles Clippers vs. Memphis Grizzlies game.
The Memphis Grizzlies are favored at -4.5. This is slightly higher than the -4 that was used in the morning line. There is also an over/under for the game that is being listed at 186 for the points that are going to be scored during the entire game.
Open an account for the best Sportsbook Parlay and Vegas Teaser Payouts in the Industry.