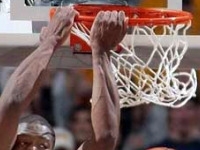 A postseason that started out as a hopeful playoff for the Chicago Bulls has become a nightmare. The injuries to Derrick Rose and Joakim Noah have substantially dampened the mood and prompted the Philadelphia 76ers to win three straight games before the Bulls could come back on Tuesday. The Bulls will be traveling to Philadelphia tonight in the hopes of forcing a final game in Chicago on Saturday.
The Bulls have struggled in terms of shooting throughout the series. The Bulls are making less than forty percent of their three point shots and are 11-18 in free throws per game. Check the Sportsbook Odds for Chicago Bulls vs. Philadelphia 76ers game.
C.J. Watson has been forced into the starting rotation for the Bulls recently. He was 2-10 in field goals on Tuesday. Omer Asik has also become a starter for the Bulls but has gotten six rebounds in each of the last two games. Carlos Boozer is managing most of the team's effort now with 15.6 points and 9.2 rebounds per game.
The Philadelphia 76ers struggled in offense during Tuesday's 77-69 loss to the Bulls. The 76ers had a 32.1% field goal percentage in that game, the lowest percentage the team has had all season long. The team has not passed the 40% mark in their past three games.
However, the Sixers have been proficient with regards to free throws. The team is making about twenty of them in each game. This has helped to improve the scoring averages of some of the players on the team. This includes Jrue Holiday, a guard who is getting 19 points per game. Spencer Hawes is also shooting more free throws, going 13-17 in the series and getting 12.2 points per game at center. Start your Basketball Betting action on Chicago Bulls vs. Philadelphia 76ers game.
The Philadelphia 76ers is favored to win tonight's game and to end the series with the Bulls. The Sixers have a -3.5 advantage in tonight's line. The over/under is also very low, presumably as a reflection of the offensive output of some of the games that have been played in the series. The over/under is at 169.
Open an account for the best Sportsbook Parlay and Vegas Teaser Payouts in the Industry.