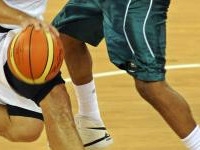 The Boston Celtics take their show on the road tonight to the southern confines of Atlanta, as they meet the Hawks in Philips Arena beginning at 7:00ET. The game can be viewed nationally as the first half of an ESPN doubleheader.
Should the Celtics drop this one to the Hawks, it sets up a likely scenario in which these two teams will meet in the first round of the NBA playoffs beginning next weekend. On Wednesday, they clinched the Atlantic Division by beating Orlando in Beantown 102-98. They were without Rajon Rondo, Ray Allen and Mikael Pietrus in that one. None of them are expected to play tonight either. Start your NBA Betting action on Boston Celtics vs. Atlanta Hawks game.
Orlando was shorthanded as well, with Dwight Howard and Hedo Turkoglu out. Paul Pierce stepped up his efforts to compensate for his missing counterparts by scoring 29 points and dishing off a career best 14 assists Avery Bradley also continued to contribute on the offensive end, with 23 points, a career best of his own. Boston was badly outrebounded 43-29, but still lead by as many as 13.
The Celtics (37-26) have the fourth seed for the playoffs off the strength of the Atlantic Division title, even though fifth seed Atlanta (37-25) has a better record. In any event, if they remain four and five, but with the Hawks maintaining a better win percentage, they will meet in this very location next week, when the playoffs begin. That fact, makes this game of utmost importance for the coveted home court advantage. Check the Sportsbook Lines for Philadelphia 76ers vs. New Jersey Nets game.

Atlanta, on Wednesday, was able to give their starters an early rest in an easy 116-84 victory over the lowly Detroit Pistons. The bench play was evident as Tracy McGrady led the Hawks with 17 points. The Hawks have the luxury of finishing the season with 5 straight home games. The Celtics have won both matcups with the Hawks this year with a 79-76 victory here one month ago and by 2, 88-86 in Beantown on April 11th.
Atlanta is a 6 point home favorite on a $110/$100 moneyline with the same $110 being required to bet the over/under of 178. Open an account for the best Sportsbook Parlay and Vegas Teaser Payouts in the Industry.