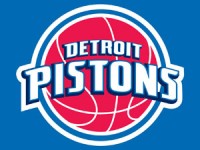 The Detroit Pistons are running out of time for trying to reach the playoffs. The 20-33 Pistons are six and a half games behind the eighth and final East spot. The Pistons will be trying to gain some ground tonight at the Palace of Auburn Hills by taking on the 12-42 Washington Wizards.
The Pistons and Wizards are meeting in their final game in the regular season. The series is split between both teams. The Wizards won 98-77 back on February 12 while the Pistons won 79-77 on March 26. Interestingly enough, the road team won during both of these games.
The Detroit Pistons are 4-1 in their last five. However, they had a five game losing streak before this run, thus hurting the team's chances. Start your Basketball Betting action on Washington Wizards vs. Detroit Pistons game.
There are also concerns involving Rodney Stuckey's injury. Stuckey injured his hamstring recently and missed the last three games and was out for much of a fourth. He is looking to potentially return for tonight's game. Stuckey has 16.1 points per game, thus giving him the top number for the Pistons.
The Washington Wizards have fallen apart, going 2-8 in their last ten and losing their three most recent games. This has pushed the Wizards to being two games behind New Orleans for the third worst spot in the NBA. The Wizards are still four ahead of last-place Charlotte. Check the Sportsbook Odds for Washington Wizards vs. Detroit Pistons game.
Nene has missed the last three games for the Wizards. Nene has plantar fasciitis, thus making this a problem because he is fourth for the team with 13.7 points per game this year and third among those who are actually active on the Wizards. Nick Young, who was second with 15.6, is no longer with the team. Jordan Crawford has expanded his role with the Wizards, getting 28 points this past Wednesday against Indiana and 23 on Monday against Milwaukee.
The Detroit Pistons have a strong favorite lead over the Washington Wizards. The Pistons are -7.5 favorites with a 190 over/under. There are no moneyline bets yet but a moneyline bet with the Wizards could top +300.
Open an account for the best Sportsbook Parlay and Vegas Teaser Payouts in the Industry.