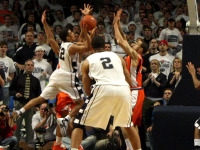 Amidst conjecture over whether or not Superman himself, Dwight Howard, will be part of the Magic after Thursday's trading deadline, Orlando travels to the AT&T Center in the Alamo city for a matchup with San Antonio beginning at 8:30 ET. Considering the distraction, they are coming off a very impressive 104-98 overtime victory over the Heat and its big three in a home affair Tuesday night. Howard may even let coach Stan Van Gundy keep his job for awhile after that one.
In fairness to Howard, he's pretty darned good, as evidenced by his 24 points and 25 rebounds in the come from behind victory over the Heat. This was his eighth 20/20 this year and his career fortieth. Quite impressive! Jameer Nelson led Orlando with 25 points, registering almost half of them (12) in the fourth quarter and overtime. The Magic overcame 24 turnovers and a 20-0 Miami run before emerging with the victory. They held the Heat to two field goals out of eleven attempts during the overtime period with Dwayne Wade scoring both. Orlando currently holds down the Eastern Conference third playoff spot with an overall mark of 28-15. They still trail the Heat by four games. Start your Basketball Betting action on Orlando Magic vs. San Antonio Spurs game.
Unlike the circus atmosphere surrounding the Magic, all is relatively quiet on the western front for the Spurs. Although they have shown little consistency of late, losing every other game while posting a 4-4 mark in their last eight. Prior to that, they had been cruising along with eleven wins in a row. They beat the lowly Wizards on Monday night 112-97. In that one, Mr. Consistency himself, Tony Parker scored 31 points. The Spurs have tended to beat up on the bottom feeders, while having little succes against the leagues elite. More problems may await San Antonio if Manu Ginobeli is unable to play. He experienced a hip flexor in the game Monday and his status is uncertain for tonight. Check the Baskteball Odds for Orlando Magic vs. San Antonio Spurs game
The Spurs own a 27-13 won/loss record on the season, trailing the Thunder by four games for the top spot in the Western Conference. They have a very respectable 16-4 home record. For a wager of $110 to win $100, you'll have to spot seven points to the Magic as the Spurs are the home team favorite. For the same $110 you can bet the over/under at 192.
Open an account for the best Sportsbook Parlay and Vegas Teaser Payouts in the Industry.