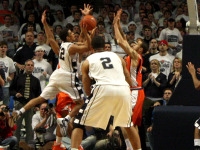 The Los Angeles Clippers have taken a 2-1 series lead over the Memphis Grizzlies but the Grizzlies have put up a strong fight throughout the series. The two teams will be at it again for Game 4 tonight at the Staples Center. Tonight's game will be covered on TNT.
The two victories that the Clippers have so far this series were by one point each. This included a victory in the first game where the Clippers came back from a 27-point deficit and the other being on Saturday when the Clippers narrowly won after Rudy Gay missed a three point shot at the last second for the Grizzlies. Check the Online Sportsbook Odds for Los Angeles Lakers vs. Denver Nuggets game.
The Clippers have struggled at the free throw line during the series. In fact, the Clippers were 13-30 from the line during Saturday's game. Chris Paul has the best totals in this category with an 89% free throw average during the series. Paul also has 22.3 points per game in these three games. Blake Griffin is not too far off with 18.7 per game. Caron Butler has also returned to the team after sitting out Wednesday's game with a hand injury.
The Memphis Grizzlies have been a little more proficient in free throws with a 75% team average. The team even went 30-39 in that category back on Saturday in a critical move that helped keep the game close.
There are also five players on the Grizzlies who have scored in double digits per game in this series. Rudy Gay has 21.3 per game and Mike Conley is nearby with 15. Zach Randolph and Marc Gasol have both dealt with some foul issues during the series. They are getting 3.7 fouls per game in these games. Both players have been one foul shy of fouling out at some point in the series.
The Clippers are close favorites with a -1.5 line for the game. There is also an over/under listed at 183. Two of the games in this series have gone over that number for points scored in the entire game.

Open an account for the best Sportsbook Parlay and Vegas Teaser Payouts in the Industry.