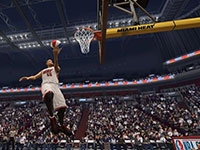 We're not in Kansas anymore, as Dorothy from the Wizard of Oz would say. As a matter of fact we never were in Kansas. But we are in America's heartland of Oklahoma as the Lakers who hail from the town who created Dorothy and the Wizard visit the Thunder tonight to open what should be the best second round matchup in the NBA postseason. The game can be seen nationally on TNT as the second half of a doubleheader following game two of the Sixers at Celtics. Approximate tip off time is 9:30ET.
Los Angeles faced a tougher than expected challenge from the resilient Denver Nuggets in round one. They took them to seven games after Andrew Bynum and especially Pau Gasol failed to show up in game six in the Mile High City. Game seven, back in Hollywood, however was a different story as Gasol atoned for his previous poor showing by leading the Lakers to a 96-87 victory to move on and meet the Thunder. Gasol had 23 points, 17 rebounds and 6 assists. He also made 4 from the charity stripe late in the contest to help seal the victory. Start your NBA Betting action on Los Angeles Lakers vs. Oklahoma City Thunder game.
Bynum was still among the missing for the most part, and Kobe was relatively quiet as well, although he did sink a clutch three pointer with under two minutes remaining and led L.A. with 8 assists. Little heralded, Steve Blake had 19 points, including 5 for 6 from beyond the arc for Los Angeles as well. The return of Metta World Peace definitely aided the Lakers defense.
Oklahoma City had no problem dispatching last years NBA champ, the Dallas Mavericks in a four game sweep. They last played on Saturday, May 5th when they wrapped up round one with a relatively easy 103-97 victory. The star in this one, was James Harden, the recipient of the elbow to the head from the aforementioned World Peace at the end of the regular season. Check the Sportsbook Odds for Los Angeles Lakers vs. Oklahoma City Thunder game.
Their matchup in this series should be worth the price of admission in itself. Obviously, Kevin Durant, Russell Westbrook and company should be well rested coming into tonight after a nine day layoff. With that, the Thunder are 7.5 point home favorites on a $110/$100 moneyline. The same moneyline holds for the over / under of 191.5 total points.
Open an account for the best Sportsbook Parlay and Vegas Teaser Payouts in the Industry.