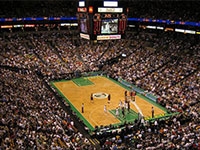 The Philadelphia 76ers return to the City of Brotherly Love tonight in hopes of staving off elimination in game six of this NBA Eastern Conference Semi Final series. Tip off at the Wells Fargo Center is scheduled for 8:00ET and can be seen nationally on ESPN.
This matchup between the number four seeded, Celtics and the eighth seed Sixers got off to a close start in Boston with both teams claiming one point victories in the first two contests. Then came game three in Philly and the Celtics seemed to take control, with an impressive 107-91 drubbing of the Seventy Sixers on their home court.
The two wily veterans, Kevin Garnett and Paul Pierce showed the upstart Sixers their resiliency by combining for 51 points and 25 rebounds. However, Philadelphia showed some comeback power of their own in game four, by not only winning the contest 92-83, but even coming from behind in the course of the game to win it. Start your NBA Betting action on Celtics vs. 76ers game.
The 76ers trailed by 15 after 24 minutes of play. They had shot just 23 percent, while looking like a team ready to turn it in to their elder counterpart Celtics. Then, almost inexplicably, they turned things around by shooting over 50 percent, emerging with the 9 point victory.
This set up a pivotal game five to see who would be facing elimination entering tonight's affair. In this one, Boston showed no mercy, with a second half comeback of their own and putting away the overmatched Sixers 101-85.
Brandon Bass was the catalyst for Boston with 27 for the game. Kevin Garnett had 20 and Rajon Rondo was his usual stellar self, with a 13 point, 14 rebound, double-double. Check the Sportsbook Odds for Celtics vs. 76ers game.
Philadelphia will have to rebound, literally and figuratively tonight if they want to force a game seven on Saturday. The 76ers are a slim 1.5 point home favorite to pull it off, on a $110/$100 moneyline. The same moneyline holds for the over/under of 175.5 total points.
Open an account for the best Sportsbook Parlay and Vegas Teaser Payouts in the Industry.