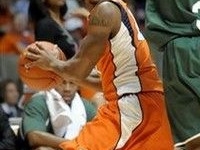 Atlanta hopes to maintain home court advantage tonight in game two of their opening round series against the Boston Celtics in Philipps Arena. Gametime is 7:30ET and can be seen nationally on the NBA network.
The Hawks captured home court on the last day of the regular season, even though technically finishing behind the Celtics in this four seed versus five seed matchup. In the NBA's unique playoff structure, the team with the third best overall record (Indiana) gets third place and fourth place goes to the third division winner in each conference, this year being Boston in the Atlantic.
With me so far? However, if the fifth place team has a better record than that division winner, they are rewarded with home court. Thus Atlanta with the home advantage for this series. Start your Basketball Betting action on Boston Celtics avs. Atlanta Hawks game.
That benefit could loom large, as a more than usually boisterous crowd seemed to help the Hawks to a 83-74 victory in the opener. They came out on fire, opening a 31-18 lead after the first quarter. Josh Smith had 22 points and an impressive 18 rebounds for Atlanta.
Rajon Rondo tried to spark a Celtics comeback with 20 points, 11 assists and four steals. However, he got a little too excited with just forty seconds remaining in the game and responded to a foul call by chest bumping an official and being ejected from the contest. Check the Online Sportsbook Odds for Boston Celtics avs. Atlanta Hawks game.
More importantly now, Rondo has been suspended for tonights contest by the NBA. Boston will need Kevin Garnett and Paul Pierce to perform better than they did in Sundays game if the Celtics hope to wrestle home court away from Atlanta. Garnett did finish with 20 points, but it took him awhile to get going with 1-9 shooting in the first half. Pierce was even worse, finishing with just 12 points overall and missing all six of his attempts from beyond the arc. Boston was 0-11 on three point attempts.
Atlanta is a 4.5 point home favorite tonight on a $110/$100 moneyline. The same moneyline holds for the over/under of 173 points.
Open an account for the best Sportsbook Parlay and Vegas Teaser Payouts in the Industry.