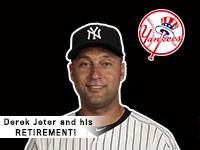 This 2014 Major League Baseball regular season share with it fans a surprise announcement that the New York Yankees are going to officially honor their retiring and shortstop and Captain Derek Jeter in their 7th of September 2014 game with the Kansas City Royals. That announcement sent the ticket prices for that game increasing rapidly in the resale market for tickets.
Prior to that announcement the list average price for a ticket to the home game in the Bronx with KC had started at some $135 plus before that announcement and now the price as of this past Saturday is over $450 according to the ticket resale market.
Also prior to the announcement the cheapest side in the stadium sold for $14 and jumped to $205 for an increase of more than 1000 percent. The face value of the seats in bleacher section were $20, and now one cannot be found for less than $200 and the seats in outfield boxes that normally sell for a face value of some $160 are costing the fans $400 or more.
Unfortunately, his team is known for picking more or less random dates as they honor their super stars that retire. For example the retirement of Rivera who had been honored last MLB season on a last Sunday game during a Yankees final home game. While the Yankees dates remain unknown, that naturally has led to large increases in ticket prices after they announced Rivera's retirement and his ceremony. However, at times that has allowed some fans to buy tickets to those events at a normal value.
The New York Bronx Yankees have not yet released the schedule of events for the retirement game, but they did announce that the fans that attend the game on the 7th of September 2014 will receive a special limited edition of a Coin dedicated to Derek Jeter.
The area that has been affected the most from the announcement of this retirement has been those selling tickets in the big apple, where the Bronx Bombers will play their final series of the regular season in late September. When Derek announced his retirement intentions in February, tickets to his very last game in the New York and Metro Area soared.
When the fans started seeking tickets to the retirement game, they found the price for the cheapest ticket went from some $24 to and incredible $320 in no more than a couple of hours after the announcement was published. Since then the prices have lowered somewhat with now the cheapest ticket from from now until the last regular season game that Derek will play on the 7th of September 2014 is now selling for some $161.
That retirement game for Jeter should increase the interest for the fans that Bet on MLB at their favorite Offshore sportbook regardless of the ticket price for that game.