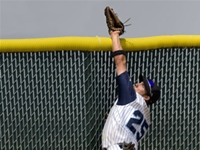 The Baltimore Orioles will give it another try tonight in Texas as this three game series against the Rangers continues. The game in Rangers Ballpark in Arlington is to commence at 8:05ET.
The O's have had little success against the Rangers as of late, as evidenced by the combined score of 87-28 the past 10 times these teams have met. That included Monday night's series opener won by Texas 5-1. Start your Online Baseball Betting on Angels vs. Red Sox Game.
Baltimore (66-56) is hanging on by a half game thread over Oakland for a wild card berth. They trail 2nd place Tampa by 2 games in the AL East. They do play well outside of Maryland posting a 34-27 road mark.
Texas (71-50) continues to dominate the AL West, 6 games ahead of the A's. The Rangers are 12-7 in August and are 37-22 in the Lone Star State.
Tonight's pitching probables are righty Chris Tillman (5-2, 3.65 ERA) who has had problems his last 2 outings for the O's and another righthander, Scott Feldman (6-8, 4.63 ERA) for the Rangers. Against righties, the Orioles are 48-43 overall, going 5-4 in their last 10. The Rangers are 51-34 this season against right-handers, posting a 6-3 mark in their last 10.
Baltimore is 11-5 SU in their last 16 games, and 11-5 SU in their last 16 road games. The total has gone UNDER in 5 of the O's last 7 games away from Baltimore. The Rangers are 4-1 SU in their last 5, and 5-1 SU in their last 6 home games. The total has gone UNDER in 5 of their last 7 games, the total has gone UNDER in 15 of the Rangers' last 20 home affairs. Check the Online Baseball Odds for Orioles vs. Rangers.
Between the two, the Orioles are 1-9 SU in their last 10 games when playing Texas, and 1-4 SU in their last 5 when playing in Rangers Ballpark. The total has gone OVER in 5 of the last 6 games between them, and the total has gone UNDER in 4 of Texas's last 6 games when playing at home against Baltimore .
Texas is a prohibitive home favorite at a -$187 and Baltimore is a +$177. As the favorite, the Rangers are 63-41 this year, and 4-1 in their last 10. As the dog, the O's are 46-38 overall, going 4-6 in their last 10. The under/over of 10 total runs is available on a $115/$100 moneyline.
Open an Account for the best Sportsbook Parlay and Vegas Teaser Payouts in the Industry.
Check the Game Podcast: