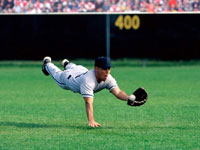 In the end, the San Francisco Giants would not be denied. With 6 straight wins in elimination games, they have earned the right to face the Detroit Tigers in the 2012 MLB World Series.
The Tigers had to struggle a bit to get past the Oakland Athletics in the ALDS which began on October 6th. After winning the first 2 at home, they dropped the next pair in Oakland, setting up a winner take all finale by the bay in this best of 5. They responded by soundly beating the A's 6-0 behind ace Justin Verlander. Start your Baseball Wagering on Giants vs. Tigers Game.
Enter the "Bronx Bombers," who had disposed of the Baltimore Orioles in an every other win scenario and the Yankees emerging with a 3-2 series victory. Game 1 of the ALCS between New York and Detroit was held in Yankee Stadium on October 13th. The two teams seemed evenly matched after the Yankees scored 4 runs in the bottom of the 9th to tie it at 4 all. Then, in the 12th, not only did the Yanks lose the game 6-4, but even more importantly, lost team leader Derek Jeter due to a broken ankle. The rest was history, as the Tigers went on to sweep New York 4 wins to none.
In the meantime, the Giants were doing their usual thing in the NLDS by dropping the first 2 games at home, only to return to Cincinnati and sweep the Reds at home 3-0.
Next up was the reigning WS Champ, St. Louis Cardinals and once again the Giants dug themselves a hole after splitting the first 2 at home, they lost the next 2 in St. Louis and, you guessed it, they faced elimination in game 5, which they won 5-0, game 6, which they won 6-1 and finished the Cards off in game 7 with a convincing 9-0 triumph.
So we now have the Tigers and AL triple crown winner Miguel Cabrera facing the Giants and Buster Posey beginning on Wednesday night in San Francisco. Check the Baseball Odds for Giants vs. Tigers Game.
Las Vegas likes Detroit as an early -$145 favorite to capture the series crown. Check back with SBG Global's sportsbook baseball odds tomorrow to take a look at the full limits on the 2012 World Series.
Open an Account for the best Sportsbook Parlay and Vegas Teaser Payouts in the Industry.
Check the Game Podcast