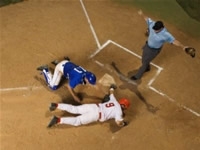 The Oakland Athletics depart the bay area for a short trip south in the Golden State to meet the Los Angeles Angels in a critical 4 game series beginning tonight. The first pitch in the Angel Stadium of Anaheim is set to be thrown at 10:05 ET.
Oakland (79-60) has been one of the hottest teams in baseball of late, winning 12 of 15. The 3 losses during that span came at the hands of these same Angels, who swept them 3-0 in Oakland one week ago. The A's now trail Texas by just 3.5 games (3 in the loss column) and would be one of the two AL wild card entries were the season to end today. They are 37-30 on the road. Check the Baseball Odds for Athletics vs. Angels Game.
Los Angeles (77-63) trails the Athletics by 2.5 games in the AL West, but are just a game behind Baltimore for a wild card. They too, have been playing well, taking 9 of their last 10 including 6 wins in a row and are 39-29 near Hollywood.
Both teams enter this one after sweeping their respective opponents over the weekend. The A's vs Seattle and L.A. against Detroit.
Tonight's pitchers are both righthanders. Jarrod Parker (9-8, 3.67 ERA) for the Athletics and Dan Haren (10-10, 4.46 ERA) for the Angels. Against righties, the A's are 55-35 on the season, and 5-2 in their last 10. Also against right-handers, the Angels are 54-43 overall, and 7-1 in their last 10 games.
Oakland is 12-3 SU in their last 15 games, and 5-0 SU away from home. They total has gone OVER in 8 of their last 11 games, and OVER in 4 of their last 5 on the road. Los Angeles is 5-0 SU in their last 5 games, and 5-0 in their last 5 at home. Start your Online MLB Betting on Athletics vs. Angels
Game.
L.A. leads the season series 8-7. The Angels are 6-2 SU against the A's in their last 8 games, but 1-4 SU against Oakland when playing in Angel Stadium. The total has gone UNDER in 9 of their last 13 games against each other. The total has gone UNDER in 5 of their last 6 games between the two in LA.
Los Angeles is a heavy home favorite at a -$155, while Oakland is a +$145. As the favorite, the Angels are 62-43 on the season, and 6-1 in their last 10 games. As the underdog, the A's are 51-46 overall, and 2-2 in their last 10. The over/under of 8 total runs is set at -$110.
Open an Account for the best Sportsbook Parlay and Vegas Teaser Payouts in the Industry.
Check the Game Podcast: