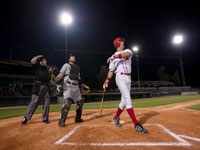 This series between the first place New York Yankees and the Detroit Tigers who are making a run at the top spot in their division, resumes tonight in Motown. Game two of the scheduled four game set begins in Comerica Park at 7:05ET. The game can be seen nationally on the MLB Network.
Detroit has been "off the charts" playing in the Motor City for over a month. They have now won nine straight contests at home. They will attempt to make it ten this evening for the first time in six years. The Tigers are batting over .300 and averaging over 6 runs per game in their last 16 home contests, posting a 15-1 mark during that span. Check the Baseball Odds for Yankees vs. Pirates game.
Cecil's son, Prince, has been "lights out" thus far in August with a .588 batting average including 3 home runs and 8 runs batted in. On Monday in the series opener, the home success continued with a 7-2 victory over New York.
Fielder's hot hitting continued, as he and Miguel Cabrera both homered for the Tigers and Justin Verlander fanned 14. Both runs against him were unearned due to his own error in the fifth inning on a dropped throw to first base. Fielder has not only been hot the first week of August, he has also tore up Yankee pitching all season hitting .333 against them with 3 roundtrippers and 6 ribbies in 7 games.
Cabrera has also hit well this month with a .364 average in the past five games. He has averaged an RBI per game in his last 30 and now leads the majors with 92. New York (63-45) holds a 5.5 game lead over the Orioles in the AL East. Detroit (59-50) remains 1.5 games behind Chicago in the AL Central for the top spot there. Start your Baseball Betting action on Yankees vs. Tigers game.
Two righthanders go to the mound tonight with the Tigers Rick Porcello (8-6, 4.65 ERA) facing the Yankees Phil Hughes(11-8, 3.96 ERA).
SBG Global's oddsmakers have this one as a "pick em," with both teams listed at a -$105. The over/under is 9.5 total runs if you are willing to lay $110 to win $100.
Open an Account for the best Sportsbook Parlay and Vegas Teaser Payouts in the Industry.
Check the Game Podcast: