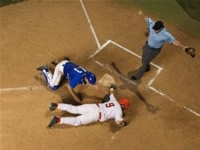 The White Sox depart the Windy City and venture across America's northern border to meet the Toronto Blues Jays tonight in game 1 of 4. The game at the Rogers Centre has a precise starting time of 7:07ET.
Chicago has not had much success in Canada, having gone 3-15 in their last 18 contests in the Centre. Since 2006, the White Sox are hitting .199 in the Canadian venue. Their fate could turn around beginning this evening however, as Toronto has been depleted by injuries coming into this one. Start your Basball Gambling action on White Sox vs. Blue Jays Game 1.
Regulars Adam Lind, J.P. Arencibia, Brett Lawries and All Star Jose Bautista are all out of action. Add to that, soreness in the groin for both Kelly Johnson and Colby Rasmus. If that were'nt enough, starting SS, Yunel Escobar sat out yesterdays game after getting hit by a pitch on Saturday.
Amazingly, with Edwin Encarnacion as the only regular starter in their lineup, the Jays beat the mighty Yankees 10-7 on Sunday. But he was a force for the group, hammering out his 30th homer with 2 runs batted in while going 3 for 4 on the day. Rajai Davis contributed another 5 ribbies in the victory, ending a 5 game skid for Toronto.
Chicago has some injury concerns of their own, albeit, not as extensively as the Blue Jays. Paul Konerko, arguably the White Sox's best player, will miss this series due to concussion type symptoms and Kevin Youkalis did not play yesterday against Oakland due to both arm and leg concerns.
In the meantime, the Sox took two of three from the Athletics including a 7-3 win yesterday. A.J. Pierzynski has been red hot for the Pale Hose, batting .383, with 7 home runs and 17 ribbies in his last 13 contests. He has a career best 23 homers already this year. Check the Baseball Lines for White Sox vs. Blue Jays Game 1.
Two righthanders take the hill tonight. For the AL Central leading White Sox (62-51) it will be Jake Peavy (9-8, 3.08 ERA). For the AL East-last place Blue Jays (54-60) Carlos Villanueva (6-2, 3.30 ERA).
Chicago is a heavy road favorite at a -$140, while Toronto is a +$130. The over/under is 8.5 total runs on a $120/$100 moneyline.
Open an Account for the best Sportsbook Parlay and Vegas Teaser Payouts in the Industry.
Check the Game Podcast: