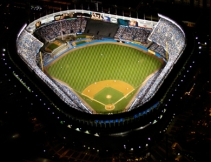 A revived group of Giants from San Francisco continue their road journey by opening a four game series versus the St. Louis Cardinals tonight. The first pitch at Busch stadium is scheduled to be thrown at 8:15ET.
San Francisco appears to be back on track after losing 7 of 8 and hitting for just a .204 average with one home run during the stretch. That ended over the weekend in the light air of the Mile High City.
The ball was sailing through the thin atmosphere at Coors Field on Friday as San Fran walloped the Colorado Rockies 16-4. Buster Posey had 4 hits including a homer, Angel Pagan contributed 3 hits and scored 4 times and Brett Pill had a roundtripper of his own in the rout. It was the most runs scored in a single contest for the Giants thus far, this season. Start your MLB Betting action on Giants vs. Cardinals game.
On Saturday, the Giants put another 11 runs on the board, with Pagan once again contributing with 4 hits including a homer. This time they had a years best 17 hits. In the series finale yesterday, the Giants took it easy on the lowly Rockies, or maybe they were just tired, scoring "just" 8 in the 8-3 win.
Newly acquired, Hunter Pence started paying dividends with 3 runs batted in for the Giants and even Tim "The Freak" Lincecum got a win in this one. Pence traditionally does well against the Cards and especially tonights starter Jake Westbrook, with a .363 average in his last 23 versus the team and batting .500(7-14) against Westbrook.
St. Louis also got out the brooms over the weekend, sweeping the Brewers. The Cardinals (59-49) have won 7 of 10 and 6 consecutive home games. They are an overall 32-21 in Busch Stadium this season.
The Giants (59-49) lead the second place Dodgers by just a half game in the NL West. They are just 4 and 6 in the last ten, but come into this won with the three straight victories over Colorado. Check the MLB Odds for Giants vs. Cardinals game.
Pitching tonight for San Francisco will be righthander Matt Cain (10-4, 2.82 ERA) and for St. Louis, another righty, Jake Westbrook (10-8, 3.79 ERA).
St. Louis is a home favorite at a -$125 and San Francisco is a +$115. The over/under is 7.5 total runs on a $125/$100 moneyline. Open an Account for the best Sportsbook Parlay and Vegas Teaser Payouts in the Industry.