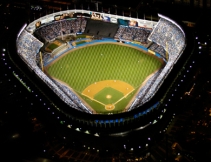 The Pittsburgh Pirates set sail today for their longest journey of the season, when they begin a 10 game road trip in Houston tonight. Gametime is 8:05ET.
There will also be a new face waiting to join them upon their arrival. Southpaw pitcher Wandy Rodriguez was dealt to the Bucs on Tuesday and had a couple days to pack before his new team arrived in his now former home. Start your MLB Betting action on Pirates vs. Astros game.
There is also expected to be another fresh face in the lineup tonight for the Pirates, with the call up of top prospect Sterling Marte. Marte is 23 years old and has been performing consistently well for triple A Indianapolis. He hit .286 including 12 home runs, 21 two baggers and 13 triples. He hits with runners in scoring position as evidenced by his 62 runs batted in and can run, which accounts for his 21 steals. All of this in ninety nine games played. He should provide a spark at the top of the lineup.
Pittsburgh has been playing well for the better part of the year, but they just dropped a series to the lowly Cubs where they scored just 4 runs in three games. Fortunately for them, 3 of those 4 were enough to beat the Cubbies yesterday 3-2. Check the MLB Odds for Pirates vs. Astros game.
Pittsburgh (55-42) is hoping to make the postseason for the first time in twenty years. They are currently in second place in their division by 2.5 games. Even with dropping the series to Chicago, they have won six of the last ten. They have not performed well away from the steel city, however, with a road record of 22-26. There is not much to say about Houston (34-65), other than they have lost 9 straight and are firmly entrenched in the N.L. Central cellar.
Tonight's pitchers in the series opener are righthander A.J. Burnett (11-3, 3.59 ERA) for the Pirates and lefty Dallas Kuechel (1-2, 4.03 ERA) for the Astros. Pittsburgh is the solid road favorite at -$155, while Houston is +$145. The over/under of 8.5 runs is available on a $120/$100 moneyline.
Open an Account for the best Sportsbook Parlay and Vegas Teaser Payouts in the Industry.