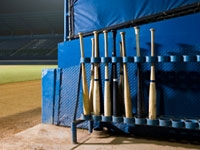 This four game set between the New York Mets and San Francisco Giants resumes tonight by the bay. Game two is scheduled to start at 10:15ET in AT&T Park on the shores of McCovey Cove.
The Mets traveled to the west coast after spending the weekend in the desert, where they split a four game series with the Diamondbacks, dropping the middle two contests. In the series finale on Sunday, R.A. Dickey won his 14th in the 5-1 New York victory. Scott Hairston had 2 RBI's off his two hits and three other Mets contributed run scoring doubles to provide the teams 5 run output. Start your MLB Betting action on New York Mets vs. Giants game.
The Giants had a tough end to the week at home, being swept by their intra state rival Los Angeles Dodgers in a 3 game set. To add insult to injury, the last two contests were 10-0, 4-0 shutouts.
In the first game in this matchup last night, Hairston's bat was alive again as he homered twice in the Mets 8-7 ten inning win. His second homer put New York up 7-6 in the tenth before they added an all important insurance run, with San Francisco coming back in the bottom of the inning with a run of their own. Nate Schierholtz and Buster Posey both had run scoring double to tie the game in the ninth.
The Mets (50-53) have been dropping back in the NL East standings after losing 7 of their last 10. They now trail the first place Nationals by 12 games and are 8.5 behind second place Atlanta. They are 24-27 away from the Big Apple.
After the weekend disaster versus the Dodgers, the Giants (55-47) are now in a virtual tie with L.A., technically leading them by 1 percentage point. San Francisco has played well overall at home going 31-21 in San Fran. Check the MLB Odds for New York Mets vs. Giants game.
Two righthanders square off on the mound tonight with rookie Matt Harvey (1-0, 0.00 ERA) making his second start for the Mets and Tim Lincecum (4-11, 5.88 ERA) going for the Giants.
San Francisco is a home favorite at -$150, while the Mets are a +$130. The over/under of just 6.5 total runs is on a $110/$100 moneyline. Open an Account for the best Sportsbook Parlay and Vegas Teaser Payouts in the Industry.