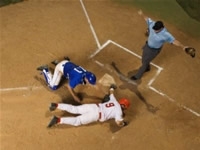 Entering this series, it promised to be a marquee matchup of two first place teams. With a Fourth of July celebration in the nations capital as a back drop, much fun and good baseball was anticipated. However, with game three of this set between San Francisco and Washington commencing tonight, the fireworks have all been provided by the Nationals. The game is scheduled to begin in Nationals Park at 7:05ET.
Thus far, the Nationals have put up two nine spots in winning the first two games. On Monday,the Giants Tim Lincecum was the victim of the 9-3 Nats victory. After showing signs of improvement in his prior couple of outings, he had perhaps one of his worst against Washington. The Nationals scored 8 of their 9 runs from the second thru fourth inning. Lincecum was responsible for all 8, 7 of them earned, while allowing 9 hits in three and a third innings of work. Start your MLB Betting action on Giants vs. Nationals game.
A series of doubles set up the first three runs and then Ian Desmond made it 5 through three innings with his fourteenth homer of the season. On Tuesday, the Giants took a 3-0 lead into the third, but Washington came back to tie it and then take the lead in the fourth off a 406 foot roundtripper by Jhonatan Solano followed by a 410 footer by Ryan Zimmerman in the fifth to gain the lead in the eventual 9-4 Nats win.
Entering play tonight, Washington (47-32) leads the NY Mets by 4.5 games, but 6 in the all important loss column. They are 22-14 in DC this year. The Giants (45-37), as a result of losing the first two to Washington, find themselves in second place, trailing the division leading Dodgers by a half game. They are now 19-21 on the road.
Tonight's pitching matchup is a good one with righthander Matt Cain (9-3,2.53ERA) going for San Fran and southpaw Ross Detweiler (4-3,3.30ERA) for Washington. Check the Sportsbook Odds for Giants vs. Nationals game.
The Giants are favored to avoid a sweep by being installed at a -$120 road favorite, while the Nationals are +$110. It will take another $110 to bet the over / under set at 7.5 runs.
Open an Account for the best Sportsbook Parlay and Vegas Teaser Payouts in the Industry.