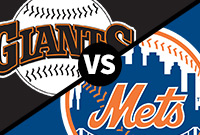 The San Francisco Giants and the
New York Mets provide a taste of postseason MLB betting
before the 2016 playoffs come into effect in full force. Both clubs finished the regular season with an identical 87-75 record, but the Mets were accorded home field advantage by virtue of winning their individual series against the Giants 4-3. These are the odds for the National League Wild Card Game on Wednesday, October 5th at Citi Field, for the benefit of fans who bet on MLB:
Giants

-1½ (+160)

6 (+105)

-116
Mets

+1½ (-185)

6 (-125)

+106
The Giants will start left-handed pitcher Madison Bumgarner (15-9, 2.74 ERA). Bumgarner set a franchise record for strikeouts in a single season with 251. Seven of those 251 were Mets batters in a game at Citi Field on May 1st. The Giants have won the World Series in the last three even-numbered years, a pattern that many
MLB betting
fans hope will continue in 2016. San Francisco could have had an easier road to the Fall Classic had they not posted a 30-42 record following the All-Star break; as a matter of fact, it could be said that they clinched their wild card spot on the strength of a 57-33 first half of the season. In any case, though, the slates are clean and the even-year effect could strike again.
Righty Noah 'Thor' Syndegaard (14-9, 2.60 ERA) will take the mound for the Mets. Syndegaard led the Mets starters in ERA and strikeouts in his first full season, and could be a dark horse for the National League Cy Young trophy. Additionally, the blonde pitcher has had more rest than Bumgarner, since the Mets didn't need him to secure the playoff spot. The Mets are the current, defending National League champions, and have a chip on their collective shoulders after losing their first World Series since 2000 against the Kansas City Royals last year.
This wild card game could be a case of the winner actually being the loser, as whichever team advances will have to face the heavy MLB betting favorites the Chicago Cubs in the National League Division Series. Nevertheless, the match-up will be a sight to behold in and of itself, pitting two of the best pitchers in the league today against the other. Even though Bumgarner is only three years Syndegaard's elder, he has experience and success on his side. He is a three-time World Series Champion with the Giants, a 2014 World Series MVP and NLCS MVP, and has a 0.25 career World Series ERA.
Meanwhile, Syndegaard is a 2016 All Star and can reach 101 miles per hour, and while his list of accolades is rather short – especially when compared to that of Bumgarner – the fact remains that everyone has to start somewhere. Thor had a breakthrough season and this could be the very beginning of decorated career in Major League Baseball. And if it isn't, he's still young and there is always next year.