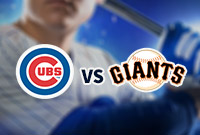 Tonight will see the beginning of one of a three game series that will capture the attention of all fans looking to place a baseball bet. The San Francisco Giants rolling with 8th straight wins will take on the best team in baseball right now: The Chicago Cubs (just writing that feels so… strange). The Giants are currently leading the West Division in the
National League
, while the Cubs reign on top of the Central division, and hold the best record in baseball right now (28-11). As the youngins would say, this is going to be lit.
The overall series price for a baseball bet holds the Cubs as the logical favorites to win it:
The Cubs will be firing right from the gate as they will open the series with Arrieta on the mound. The right handed wonder pitcher, will put his 7-0 record on the line as the Cubs will throw out there the best of the rotation for this important series. Arrieta has been on some
Henry Rowengartner
level of play, with a flawless record 1.29 ERA, 55 strikeouts in 56 innings and a no-hitter against the Reds earlier in the season (the only so far in the season). He, might just be the reason why the Cubs lead by 6 ½ games in the Central division. Fire emojis, indeed.
The Giants, despite being underdogs at home, are a well put together team that appears to be destined to be one of the main contenders for the National league and one of the biggest obstacles the
Cubs will have in order to reach the World Series
. They are the default heels in this storyline. They are fresh of puling an undefeated on their last seven games, and they boast a 8 game winning streak. However, despite this they open up as baseball bet underdogs for the first game:
Giants
+1½ (-115)
ML: +164
The Giants will open the series with Jake Peavy on the mound. This will definitely give a big edge for the Cubs as the right-handed #22 is not having a good start this season, so sports betting fans should take note. His stats are dismal compared to the likes of the Giants pitching staff and much less if compared to the aforementioned Arrieta. His ERA is 7.43, he has 36 strikeouts and has pitched in 40 innings so far. The giants are hoping for Peavy to turn things around and in a true vote of confidence they are giving him the start of the series.
For the rest of the series, the Giants will have Matt Cain (who also has had a rough start with 0-5) for game 2 and they will close with Madison Bumgarner (5-2). The Cubs on the other hand will have Jon Lester (4-2) and Kyle Hendricks (2-3) close out the series.
The Giants will try to rely on their offensive power to score a big win against the Cubs and prolong their winning streak, while the Cubs know that winning this series will further elevate their status as the top dogs (or should we say bears?) of Major League Baseball. Either way, the series will keep all fans as they place their baseball bets, happy.