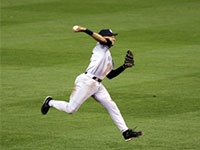 The Atlanta Braves journey to our nations capital tonight to begin a much anticipated 3 game set against the Washington Nationals. This affair between the top two teams in the NL East is scheduled for a 7:05ET start in Nationals Park.
If Atlanta (70-51) could somehow find a way to sweep this series, they would find themselves trailing the Nats by just 2 games in the division. For that to happen they will have to play better than they did over the weekend when they dropped the last 2 of 3 to the Dodgers. They are already the top wild card contender. The Braves (34-22) are a half game better on the road than the Nationals (34-23) are at home. Start your Baseball Wagering on Yankees at White Sox Game.
Washington (75-46) does however boast the best record in MLB this year. They took 2 of 3 from the Mets in DC to end the week. Tonight's pitching duel is a good one with red hot righthander Tim Hudson (12-4, 3.59 ERA) going for the Braves and another righty Jordan Zimmerman (9-7, 2.38 ERA) hurling for the Nationals. Hudson is 6-0 in his previous 8 starts. His last loss was to the Nats. Against right-handers, the Braves are 49-26 overall, posting a 3-2 record in their last 10. The Nationals are 52-30 against right-handed pitchers, going 5-0 in their last 10.
Atlanta is 18-7 SU in its last 25 games, and 6-2 SU in their last 8 games on the road. The total has gone UNDER in all 5 of the Braves' last 5 games. Washington is 12-3 SU in its last 15 games, going 4-1 SU in the last 5 home games. The total has gone OVER in 7 of the Nationals' last 9 games.
Atlanta is 4-10 SU in its last 14 games when playing Washington. The total has gone OVER in 4 of the last 6 games between these two teams. The total has gone UNDER in 6 of the Braves' last 8 games when playing in Washington. Check the MLB Baseball Odds for Braves vs. Nationals Game.
Washington is favored at home at a -$135, while Atlanta is a +$125. As the favorite, the Nationals are 54-28 overall, and 5-1 in their last 10 games. As the dog, the Braves are 22-20 for the year, and have been favored in each of their last 10 games. Another wager of $125 will be required on the under/over of 7.5 runs.
Open an Account for the best Sportsbook Parlay and Vegas Teaser Payouts in the Industry.
Check the Game Podcast: