Many Chicago Cubs fans are still feeling the glow of their 2016 World Series title.  However, bettors on the Cubs drowned in red ink last year.  Despite winning 92 games in 2017 few teams lost more money than Chicago.  Once again overlays are a huge danger with baseball odds today.  Yu Darvish arrives in the Windy City as a major offseason acquisition.  Meanwhile old reliable looks like the top challenger.  Consistency is the hallmark of the St. Louis Cardinals.  Back to back seasons out of the playoffs is quite un-Cardinal like.
2018 National League Central
Date and Time: Opening Day is March 29, 2018
Location: Check Schedule
2018 MLB Betting Odds at SBG: Cubs -225, Cardinals +375, Brewers +550, Reds +4000, Pirates +5000
2018 MLB TV Coverage:  Check Listings
Spotlight on a few Teams
Arguably no team with the baseball odds today was a bigger surprise in 2017 than the Brewers.  Milwaukee finished just one game out of a wild card spot.  Profit taking was massive on the Brew Crew.  Operating in the shadows they were one of the biggest money makers last year.  Questions abound on the danger of a market correction with Milwaukee.  Among the biggest bankroll busters last year were the Reds.  Cincinnati finished dead last in the NL Central and were quiet in the winter.  Pittsburgh should also see red ink this summer.
Spotlight on Managers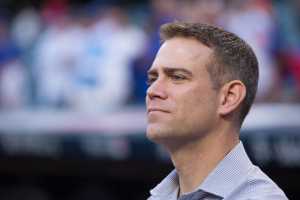 General manager Theo Epstein and manager Joe Maddon are a top leadership tandem.  Owner Tom Ricketts triggered a new culture that transformed the Cubs in to champions.  Yu Darvish arrives from the Los Angeles Dodgers as one of the top starters in MLB.  Texas is where Darvish made his Online sportsbook fame.  With five years experience the right hander has 1021 career strikeouts in 832.1 innings worked.  Best of all for the Cubs is that they return the same lineup from 2017.  Epstein has built one of the deepest rosters in the game.
Cardinals
Run production has been a consistent problem for the Cardinals.  St. Louis made a splash with the acquisition of Marcell Ozuna.  Fresh off his most productive season ever he adds much needed power.  Ozuna powered Miami with 37 home runs and 124 runs batted in last year.  Top of the order stars Matt Carpenter and Dexter Fowler set the table well.  Starting pitching is solid as usual.  Playoffs are again possible if not probable.  Missing last year was a cleanup man to bring home the table setters.  Stranded runners will be far less of a factor in 2018.
Brewers
Pitching depth is what may bring the Brewers back to the pack.  Milwaukee caught everyone off guard last year.  For 2018 nobody will be sleeping against the Crew.  Spring training is likely to bring unusually high roster turnover for Milwaukee.  One of the great wonders of the universe is why Bryan Price remains Reds manager.  Dusty Baker's firing as skipper in 2013 only made Cincinnati worse.  Clint Hurdle has been a solid manager for the Pirates.  Pittsburgh is retooling however and is not a serious contender.
Matchup to Watch
St. Louis looks like the top threat to the Cubs in the NL Central.  Huge baseball odds today prices on Chicago remain problematic.  Public money floods to them like few other teams.  Milwaukee is almost a certainty to fall back as a betting commodity.
MLB Betting Odds Picks
Finally, the Cubs should win the division yet again.  Countering that is St. Louis should be more profitable.
MLB Betting Online Pick:  St. Louis Cardinals.
Check out 2017 highlights of new Cardinal slugger Marcell Ozuna!