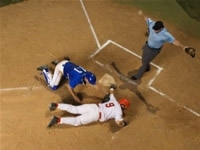 Colorado and Arizona, two teams still trying to find themselves in the National Leagues West division, will open a three game series tonight in the desert. The first pitch at Chase Field in Phoenix is scheduled to be tossed at 9:40ET.
The Rockies have just ended an outstanding seven games at home, winning six of them. Their last series at Coors Field was all the more impressive as they took two of three from the division leading Los Angeles Dodgers, who also lead the major leagues in wins. Too bad the slaughter rule was not in effect as the Rockies crushed them 13-3 in the series opener on Friday. The Rockies scored 4 runs in the decisive sixth inning including a home run by Wilin Rosario. Another run scored in the inning off an error on Jerry Hairston, one of four miscues by the Dodgers in the game. Start your Baseball Betting action on Rockies vs. Diamondbacks game.
Los Angeles came back in game two emerging with a 6-2 victory which included the Dodgers Bobby Abreu's first round tripper of the season. This ended a five game losing streak for L.A. and was the Rockies lone loss during its seven game homestand. Colorado rebounded on Sunday behind a solid pitching effort of Alex White and won 3-2.
In the meantime, the Diamondbacks were besting the lowly Padres two games out of three in SoCal, losing game one 7-1, then coming back with successive victories of 4-2 and a 6-0 shutout yesterday behind a 6 hit shutout by Trevor Cahill. Check the Sports Betting Odds for Rockies vs. Diamondbacks game.
Entering tonight's affair the Rockies are fourth in the NL West and trail the third place Diamondbacks by 1.5 games, but just one in the loss column. They have an overall mark of 23-30 and 8-15 away from Coors. Arizona is 25-29 overall and trail the Giants by 5 full games. They are only 10-15 at home, but have beat the Rockies 5 in a row in Phoenix coming into tonight.
Tonight's pitching matchup has southpaw Christian Freidrich (3-1, 5.59ERA) going for Colorado against another lefty, Joe Saunders (3-3, 3.61ERA). Arizona is a home favorite tonight at -$122, while the Rockies are +$112. The over / under is a hefty 10 total runs on a $110/$100 moneyline.
Open an account to take advantage of the Best Initial and Reload Bonuses in the Industry.