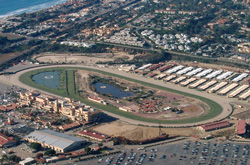 Horse race tracks in California have been one of the main opponents to legalized online poker in the state of California. Why? Because, if the tribal casinos get their way, race tracks will be cut out of the market or vastly marginalized. However, with the latest bill introduced in the California legislature, that may all be changing.
The biggest development is the $60 million annual payment that will be given to the horse racing industry in the state, as long as the tracks agree not to get into the online poker market. That $60 million will come from the tribal casinos who would be allowed to move ahead on online gaming operations.
So far, this is the most lucrative offer the tribes have been willing to entertain, even if the final number is very likely to change. The race tracks and the horse racing industry has been stubborn on the issue, insisting that they also get to participate in the online gaming industry that would be opened up in the state.
Although the $60 million is likely to be reduced, the race tracks have every incentive to take any reasonable annual payment (amounting to pure profit) for abstaining from online poker and focusing on their core business. A number around $20 to $25 million would put the racing industry in a position to make more than the entire Atlantic City online poker market, and would get them over many of the hurdles of operating fully in the California market.
Three factors mitigate against the race tracks ever making $25 million in pure profit from online poker, let along $60 million. First is the startup costs, which could run into the tens of millions of dollars. A $15 million licensing fee has been proposed, and then there will be regulatory costs, taxes, partnership costs, and marketing.
Second, the market size of California, while much larger than New Jersey, may tap out at $360 million per year. The horse racing industry has little chance of getting a big enough share of that pie to earn $60 million in revenue, let alone profit.
Finally, if the race tracks enter the market, it will be very difficult to compete with the more established professional casinos that focus on gaming. The biggest factor will be the marketing budgets that the horse racing industry does not currently have that will be necessary to take market share away from the tribes and other major online gaming players.
In the end, the race tracks have been a big stumbling block towards getting online gaming legalized in California, but they lack the ability to compete with the tribes and established online gaming companies. Accepting an annual cash payment would be a solution that could potentially make everyone happy, even if that number comes down from $60 million by the time the state legislature passes an online poker bill.