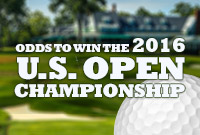 Fans who bet on golf are marking out all over the place because the 2016 U.S. Open Championship is set to start on June 16th. Golf
betting favorites
will gather from all corners of the world, as well as from different eras, including Open winners from the past ten years, winners of the Masters of the last decade, winners of the British Open of the last five years, and other categories. And let's not forget either about golfers who had to qualify for the tournament.
•
Victor Dubuisson +12500
•
Bernd Wiesberger +12500
Before we proceed, just how good is Tiger Woods? Even though he announced he will not be at Pennsylvania's Oakmont Country Club, citing physical health issues, Woods is still listed at
+4500
to win the U.S. Open. People who bet on golf sure have faith in Tiger, and I guess you can never rule out a surprise run-in. And while our favorites will not have to worry about Woods will have to concern themselves with a common foe – Oakmont itself; the golfing equivalent of the Elimination Chamber.
The oldest top-ranked golf course in America is such a demonic layout that it even includes a turnpike (sort of). Oakmont is widely considered the best and the hardest golf course there is by pro players and fans who
bet on golf
alike. The aforementioned Tiger called it one of the toughest tests, especially when dry. Arnold Palmer said that you can hit 72 greens in the Open at Oakmont and not come close to winning. Rocco Mediate said that the greens are almost impossible. And then there is Sam Snead's remark that he once tried to mark his ball on one of Oakmont's greens only to have the coin slide off. 'Nuff said.