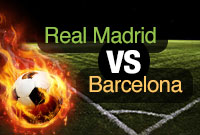 Soccer betting fans have this game marked on their calendars since the fixture was announced; it is time for El Clasico! In a game that could very well decide the fate of the Spanish league, this is the most important soccer game of the entire month globally and the pressure is on for Real Madrid to put a major dent in Barcelona's tittle hopes if they have hopes of stealing La Liga from them. But, if Barca wins this Saturday they will have a major point lead in the table, almost securing the la Spanish League championship. This game is a can't miss affair for players
betting on soccer
.
Currently, the odds for this game in offshore gambling sites give have the blaugrana team as favorites with a -1, with a money line of -160. Barcelona has been fantastic all this season and they have made a fortress out of Nou Camp. Their attacking three of Suarez, Neymar and Messi, continues to dismantle defenders since forming last season, scoring a whopping 69 goals among the three (the rest of the team has scored only 17).
Lionel Messi will enter this game seeking to score his 500th career goal against Barcelona's most bitter rivals. Luis Suarez will try to reach Cristiano Ronaldo (more on him later) at the top of the goal-scoring table. Neymar will want to make this game one of his crowning moments with Barcelona. Soccer betting fans have grown accustomed to seeing their names in the scoring sheets.
Real Madrid on the other hand has experienced a late revival of sorts, but they still are far off to being a real plausible threat to Barcelona. Relegated to the third spot of the table, behind Atletico Madrid, the Blancos appear to be more focused on performing well in the UEFA Champions League, almost forfeiting league competition. However, even if they don't manage to be league champions, El Clasico is a matter of pride and bragging rights. Real Madrid will be obligated by their fans to win this game and trample Barca's dream season. They reach this game as the +1underdog with a money line of +411 in
offshore gambling sites
.
Coach Zinedine Zidane
has been slowly but surely changing the face of this team, but there is still a lot of room for improvement. While they have been on great shape on the European side, domestically Real's performances have been lacking. Cristiano Ronaldo, despite not having a good collective year, is leading the goal scoring table, and his much (overly) reported frustration comes that regardless of his best efforts it is not enough to propel his team to the top of the table.
The smart wager for soccer betting fans would be to bet on a Barcelona's win, Real Madrid necessity for keeper Keylor Navas to have a miraculous game, and their at times shaky defense, leaves the game open for Messi and company to reach the net at least a couple of times. The Final score in Nou Camp will be 3-0, in favor of the soon to be La Liga champs: Barcelona.