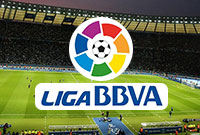 The Spanish Liga will be decided this next Saturday between Real Madrid and FC Barcelona. Though the two behemoths will not be clashing head to head – and thank {insert name of deity} for that because if that were the case Madrid's soccer betting odds would be slim and none – it will all come down to one of the two. Barcelona, the league leader with 88 points, will face Granada, while Real, second with 87, will visit Derportivo La Coruña. As for Atletico Madrid, they lost 2-1 to Levante and dropped from the title race – and they better get used to it because
that's what's in store for them
at the Champions League Final on Saturday, 28th.
Both contenders are coming off hot from a victory during the weekend. Barcelona beat the living daylights out of Espanyol 5-0, but Real Madrid struggled to best Valencia 3-2 at Santiago Bernabeu. The Blancos were lucky that their starting goalkeeper was out with an injury, giving someone who actually deserves to be under the goalposts a chance. It is awfully appropriate that K. Navas – or Knave, as I like to call him – had an Achilles tendon injury, seeing as how he is the team's Achilles's heel.
On the other end of the Liga spectrum, Granada defeated Sevilla 4-1 and was thus spared from relegation. Since they stay in the Primera Division is secured and they have nothing else to play for until next season, people who bet on soccer wonder whether this could make things easier for Barcelona. Not saying that Granada will not play at they would if something was actually at stake, but hopefully they will because Barcelona does not need any more help. On the other hand, the outcome for La Coruña's match is about as meaningless as it is for Granada. At their last encounters, Madrid beat Deportivo 5-0, while Barcelona beat Granada 4-0. Real Madrid has made up for a lot of lost ground since Zinedine Zidane was appointed head coach, but Barcelona remains
soccer betting
favorites to win La Liga, having been on top of it for most of the tournament.
Rayo Vallecano, Getafe and Sporting Gijon are also at risk of joining Levante in the second tier of Spanish soccer. Rayo's loss at Real Sociedad leaves them with 35 points, while the draw between Getafe and Sporting means both teams have 36 points, but Sporting has the better head-to-head record. Next weekend, Rayo hosts Levante, Sporting plays at home to Villarreal and Getafe travels to Real Betis. As these lowlier teams come and go, the big prize will once again go to one of the top two teams in Spain – and arguably the world.