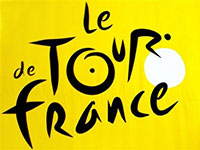 It's far too early to figure out who could win the 2016 Tour de France. Chris Froome, the winner of the last Tour, has a +105 line to win it all with Nairo Quintana and Alejandro Valverde, the second and third place finishers, respectively having +200 and +4500 betting odds to win.
A few points about the route for the 2016 edition of the race have been released though. These include some interesting parts of the route based on where it will head around France and elsewhere.
Starting Around Utah Beach
The tour will start with a 188 km run starting at Mont Saint-Michel. The historic site around northwestern France will make for a noteworthy starting point but its destination for the first day will be unique. The race will head to Utah Beach in Sainte Marie-du-Mont at the end. This site was famous for being one of the five spots where Allied forces invaded during World War II in 1944.
Andorra Will Play a Part
One of the stages is expected to end in Andorra. This small municipality is in the Pyrenees in between France and Spain. Andorra will also host a rest day and even the start of another stage, thus resulting in three days where the tour will take place in Andorra in some fashion. Details on the specific parts that the tour will be in are unclear at this moment.
The Second Day Will Include Normandy
The second day of the tour is the only other one that was released as of mid-August. This 182 km day will go from Saint-Lo in Normandy and head out to Cherbourg-Octeville in Lower Normandy. This will head out to many different parts of the northwestern coastline and will feature plenty of picturesque sites for all cycling fans to check out.
The rest of the 2016 Tour de France route will be progressively released throughout the year heading up to the race, which will take place from July 2-24. The one thing for certain is that it will, like with every other Tour de France, end at the Champs-Elysees in Paris.