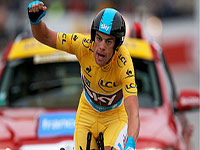 Richie Porte had good cycling betting odds of making the Tour de France podium, but they are now even better after Alberto Contador and teammate Chris Froome -among others- have been forced to step down. This turn of events has thrust the Australian dark horse into the spotlight as the single greatest threat to current yellow jersey wearer Vincenzo Nibali. In a way, this scenario parallels the 1985 film American Flyers, with Porte and Froome filling the roles played by David Marshall Grant and Kevin Costner. We have yet to see whether Porte does indeed defy the odds and gets his own Hollywood ending.
The biggest hurdle in Porte's way is Italian Nibali, who was already considered a favorite even before Froome and Contador crashed out. It may be a bit too early to say that the race is down to Nibali and Porte, but even the other competitors seem to agree with that assertion. After all, when Nibali started a solo attack in the 10th stage -which he ended up winning- Porte was the only one that followed. The 2'23'' advantage that the Italian has over the Australian may seem negligible, but as Porte put it, Nibali has "got enough time already so I didn't really want him to get any more."
Porte was instrumental in securing Froome's win last year's Tour, but with several favorites out of the title picture, not only the dynamics of the race change, but so could Porte's cycling style. He has the opportunity to race more aggressively and less defensively in order to wrest the yellow jersey away from Nibali. Team Sky's unlikely leader's best strategy might be to wait until the 3rd week and attack in the Pyrenees and then again in the Alps in order to try and take back some time. And if Nibali goes on the offensive once again, it would be a mistake for Porte to attempt to go with; instead he should try to reel him in. The long climbs that are on the Tour's horizon could also be the ones that take Richie Porte to the top of the standings and to increased cycling betting odds of winning the race.