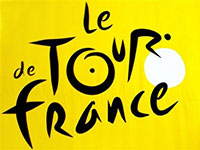 The route for the 2015 Tour de France will be bringing cyclists throughout many parts of France from July 4-26. The route will include a few new cities this year.
Starting In Holland
The 2015 Tour de France will start in the Dutch city of Utrecht. It will then move into Belgium for the third day where the racers will start in Antwerp. After this, the race will get into France. The individual time trial will also take place in Utrecht.
When the Mountains Start
After going around the northern end of France, the racers will have a rest day on July 13 before traveling to Tarbes for a series of mountain stages. The mountain stages will be around the southern end of the country. The stages around Cauterets, Rodez and Mende are especially expected to be real challenges for all the competitors. The team time trial will occur not long before this part as well; it will go from Vannes to Plumelec.
The Last Stretch
There will be four straight days of mountain stages after a rest day on July 21. These will go around Digne-les-Bains, Gap and Modane among other places. This will all lead to the final day with a dash from Sevres to the Champs-Elysees in Paris.
New Places
There will be a few new stage cities on this year's path. In addition to the stages in Utrecht, there will also be stages in Zelande, Livarot, Muret and La Pierre-Saint-Martin.
Overall, the Tour de France will cover 3,344 km of space. This will go along nine flat stages and seven mountain stages among many others.
The competition in the 2015 Tour de France will be exciting as hundreds of cyclists from many teams from all parts of the world will be competing in the world's most exciting race. The addition of many new spots this year, including the part that will take place in Holland, will especially make this an event that might be a challenge to predict. This will be a fun event for all who are interested in cycling to watch this year.