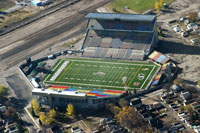 The Saskatchewan Roughriders have quickly fallen to have the lowest odds to win the 2015 Grey Cup. The Roughriders have +2000 betting odds to win as the team has lost its first seven games.
Who's the Quarterback?
Needless to say, the Roughriders have been struggling to try and keep a sense of consistency going. Much of this comes from the team having a real lack of a quarterback to really lead the team. The team has gone through three different quarterbacks so far this year and while they are completing a majority of their passes, the team has ten touchdown passes versus nine interceptions, a total that is keeping the Riders from really moving forward.
Unable To Finish
The Riders are also struggling to finish their games and come out on top as hoped. In particular, the Riders struggled with the Toronto Argonauts recently and lost 30-26 after the Argos had two touchdown passes late in the game. This particularly came with three separate touchdowns for the Riders being called back due to penalties.
The Riders also lost to the Argos by two points earlier in the year and even lost to Winnipeg by four points. The struggles that the Riders have had this year are a sign of how tough it's been for people to actually win and compete.
Penalty Problems Are Commonplace
The Roughriders have been unable to keep themselves running due to penalties. In particular, the Riders had the second-highest total of penalties in CFL history after the last game with Toronto. It's a sign of just how tough it has been for the team to go far for much of the season.
The struggles that the Saskatchewan Roughriders have gone through this season are substantial and are keeping the team from getting anywhere this year. The team has reached a 0-7 record for the first time since 1979 and it is uncertain as to how the team is going to head into the rest of the season. One point for certain is that the team's Grey Cup odds certainly are not all that appealing.