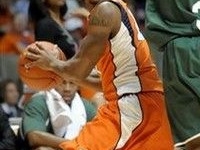 The Knicks depart New York City with hope of experiencing some southern hospitality at the hands of the Atlanta Hawks beginning at 7:30ET tonight in Philips Arena.

Gone are the days of Linsanity and Mike D'Antonio. Gone too is Jeremy Lin, himself and Amare Stoudamire out with injuries. New York deserves credit though, as they have shown much perseverance without the two stars. They have won four straight for new coach Mike Woodson who has roots of his own in Atlanta. They are 8-1 under their interim coach, who, if he keeps this up, will have the interim removed from his coaching title soon. Start your Basketball Betting action on Oklahoma City Thunder vs. Los Angeles Lakers game.

The Knicks last game was a 108-86 beat down of the Orlando Magic in Madison Square Garden on Wednesday night. Carmelo Anthony, even with nagging injuries of his own, stepped it up with the absence of Lin and Stoudamire, scoring 25 points in 26 limited minutes. Rookie, Iman Shumpert also made his presence felt with a top career total of 25 points of his own. Veteran Baron Davis, seems to be getting more comfortable in the Knicks scheme and contributed 11 points, 7 rebounds and 6 assists. Tyson Chandler had 9 boards for the winners.

It did help that Superman himself, left his cape in Orlando, Dwight Howard scored only 12 points and had all of 5 rebounds in this one. New York is currently holding on to the eighth and final playoff spot in the Eastern Conference with a record of 26-25. Leading ninth place Milwaukee by 2.5 games. They are 9-15 away from MSG.

What appeared to be a tired team from Atlanta, could not contend with Chicago on Wednesday, even with Derrick Rose watching from the bench. The Bulls coveted defense held the Hawks to 77 points in a 98-77 Chicago win. Josh Smith led the Hawks in scoring with 19 points. Joe Johnson could muster only 12. Atlanta is in a race with three other teams for the fourth playoff spot and homecourt advantage in the first round. Two games seperate the four. Their overall mark is 30-22. They are 16-8 at home. Check the Sportsbook Lines for New York Knicks vs. Atlanta Hawks game.

New York has won three in a row from the Hawks and 3 of 4 in Atlanta. Atlanta is a 3 point favorite to win at home on a $110/$100 wager. Another $110 will be necessary to win $100 on the over/under of 185.

Open an account for the best Sportsbook Parlay and Vegas Teaser Payouts in the Industry.